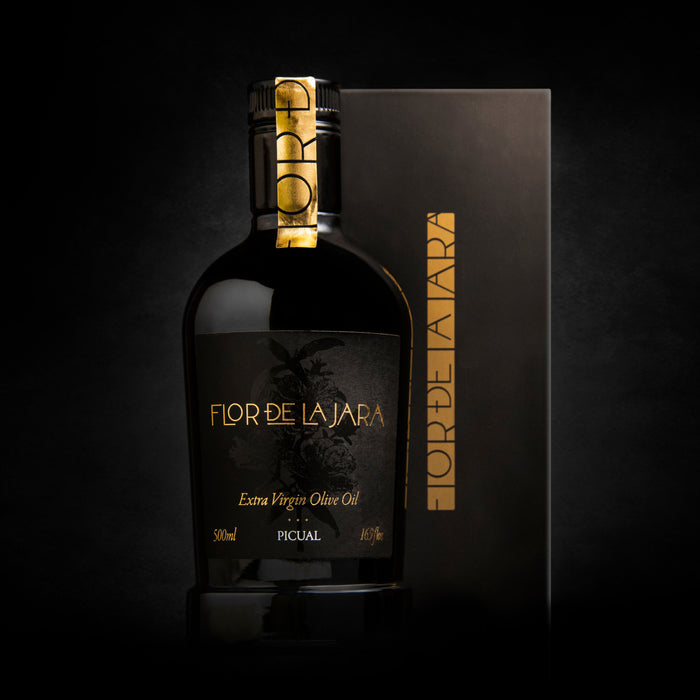 Flor de la Jara - Premium Extra Virgin Olive Oil (Picual)
Save

0

%
Save %
Original price
$31.32
-
Original price
$31.32
Picual is a popular variety of extra virgin olive oil known for its distinct flavor profile and numerous health benefits. It is characterized by its great strength, intense flavor and fruity nose, displaying notes of banana. It is a full-bodied oil that has a slightly bitter taste with a peppery finish, indicative of its high polyphenol content. This oil is known for its strong aroma, reminiscent of fresh olives, tomate leafs and green grass.
In terms of its nutritional value, Picual is high in polyphenols and monounsaturated fats, particularly oleic acid which is considered heart healthy. It is also a great source of antioxidants, such as vitamin E and vitamin K, which may help protect against oxidative stress and inflammation.
Due to its stability against oxidation and rancidity, as well as the temperature cycles in frying, Picual olive oil is well-suited for various culinary applications. It can be used for cooking, sautéing, light frying, and grilling.
Additionally, its bold taste makes it a favorite choice for dipping bread, drizzling over salads, or enhancing the flavor of dishes like pasta, vegetables, and grilled meats.